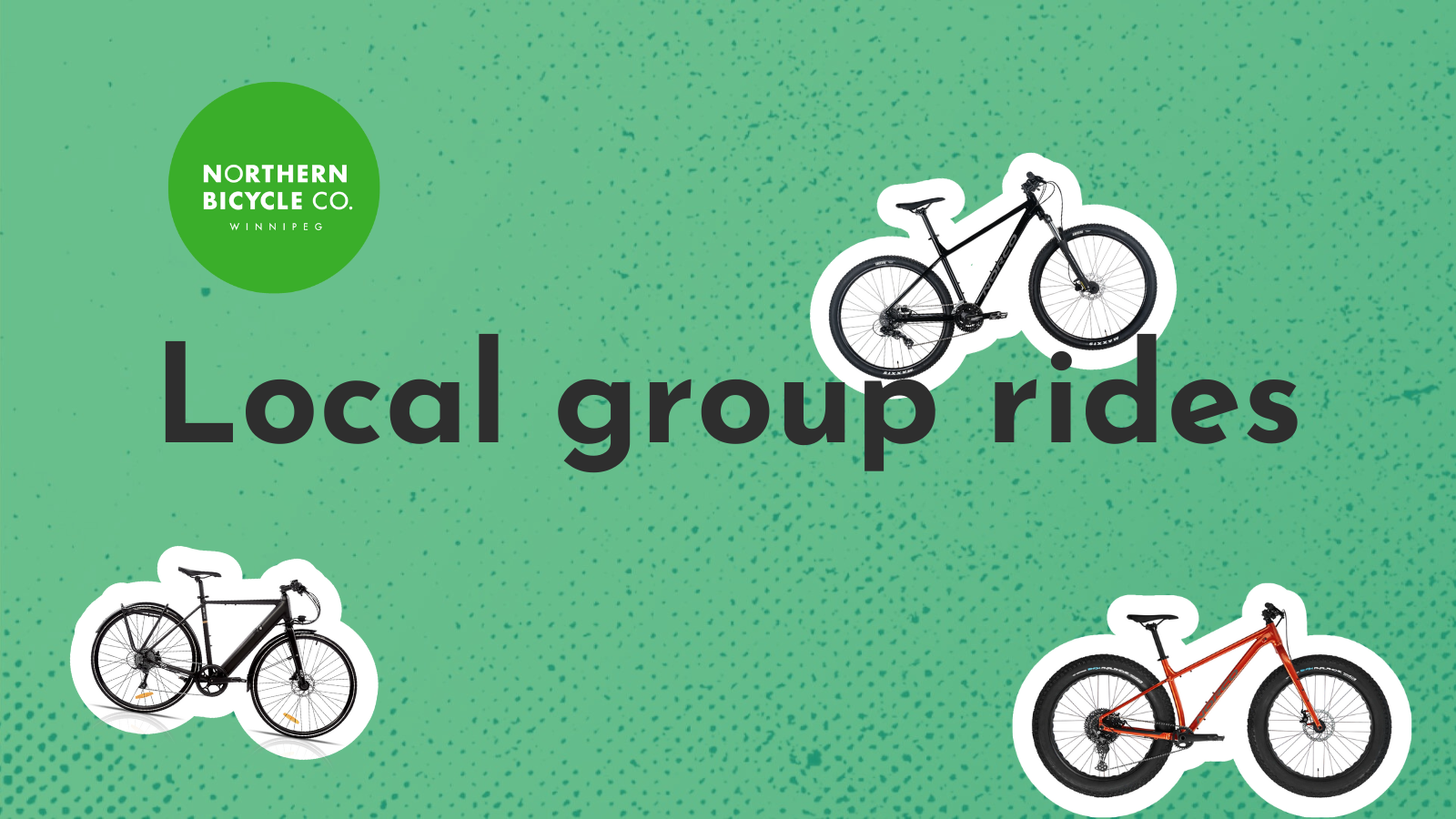 Why ride alone when you can
ride with us?
The Northern Adventure Club is for everyone.
All skill levels, all bikes. 

Rides:
Every Wednesday at 6pm.
We leave from our bike shop in Winnipeg ( 1841 Portage Ave ) for an easy-paced, no-drop ride. All skill levels are welcome. 
 

 The Northern Bicycle Club was formed to help recreational cyclists find friends and gain confidence to ride further and faster while having more fun.

 
---
Northern Adventure Club Rides FAQ
Follow us on social or by email to stay informed.
Do the rides all start at the same location every week?  If so where.
Most of our rides will start at 6:00 PM in front of our shop (1841 Portage Age). From here we will gather into groups with vetted Ride Guides. All our rides will return by approximately 8:00 PM.
On holidays we may have special locations planned.
What time do you usually start? 
6:00 PM
Our mountain bike and e-bike rides will start in mid-late April and continue until we cannot ride in the Autumn. Then we switch to riding fat bikes, indoor trainers, and cross-country skis.


Is it mountain biking or road cycling? Or e-bikes?
Our rides are primarily recreational (with the goal of getting ice cream or coffee) but if we have trained enough Ride Guides, we will be able to have multiple groups riding.  Ideally, we have a few groups going so everyone finds a group to suit them. 


What if I want to go faster than my group?
The goal of this ride night is to find people who like to ride like you do. It's a social ride, probably not a racer's training ride. This is a great opportunity for enthusiasts to introduce their friends to a cycling community. If, however, during the group ride you want to or need to leave the group, be sure that the Ride Guides in your group know so that they are not looking for you at the end and wondering where you are.
Will my kids be able to ride?
Yes! We are recruiting Ride Guides who are skilled at riding with younger children. For pre-school children we recommend using an Adam's Trail-A-Bike or a bike trailer so they can enjoy the group but not feel like they have to ride fast for the whole ride.
Do I need to register to ride?
Yes. Your first time joining us is complimentary but you will need to sign a Ride Waiver. We can send that to you ahead of time or you can fill it in when you arrive. (Please come early so that you have time). After your first ride, you can join the Northern Adventure Club ($20 for adults, $10 for children) and the MB Cycling Association (about $65). These memberships ensure the club and its riders should there be an incident. Uninsured riders in the group void the club insurance so we need to be strict on this requirement.
To learn more about what your MB Cycling Association Membership does for you, please click here. https://mbcycling.ca/membership/benefits/
Why do I need an MB Cycling Association Membership to ride if I'm not racing?
Great question. Our club cannot afford to ride without insurance so we must insist. However, we promise to make up the cost of your license with a value that you'll receive in-store and on our rides. Having access to experienced cyclists who want to help you is unique to belonging to a cycling club.
How do you train Ride Guides?
Ride Guides are experienced cyclists who enjoy group rides and know how to keep everyone engaged. They are not required to be the fastest in the group. Each group will have a leader and an assistant and this team will be responsible for choosing and riding a safe route (sometimes you have to make route adjustments), and choosing a front rider and rear rider (Sweep). The Ride Guides will know what the Emergency Action Plan is and have a cell phone with them to communicate as needed.
Ride Guides are the face of the Olympia Cycling Club and therefore need to be respected by the members of the group. If you'd like to be a Ride Guide, email us or ask at the next ride. (i[email protected])