You've decided that it's time to get your own pair of skis so that you get out and embrace our winter wonderland. 
Let's start with your skis:
With their no-wax base and Efficient Forward design, the Fischer Twin Skin skis are perfect for you as a novice skier or if you're just getting back into the sport. These are ideal if you're skiing on trails that have nicely packed tracks and give you predictable grip even when your technique is lacking.
Here's a short video on the Twin Skins: https://youtu.be/47xOt9cLIJY
If you plan on skiing where there may be more gravelly surfaces or the ski tracks are less pristine, you might prefer Fischer Sport Crown. These are highly versatile and durable skis and give grip without the hassle of choosing the right grip wax.
Adult fit for Fischer skis is very simple, take your height and add 20-30 cm. A little longer if you are experienced and a little shorter if you're new to the sport. You can also add a little length if you are heavier (so that you will get better glide).
Children, add about 10 cm to your height to find your ski length. Read to the bottom to find out about our Trade-Up program.*
Next, let's get you some poles:
A good estimate is to measure your Basic Elite Poles to your armpits. A little long or a little short can work too, based on your preference. If you want a significant performance upgrade, consider our carbon fibre poles.
Boots:
Ski boots are measured by European sizes, so I've included a conversion chart. Comfort boots are water repellent, thermally insulated with special wicking material to keep your feet dry and Fischer Fresh to keep your boots fresh. Touring boots are excellent basic boots with quality insulation and water repellent.
Bindings: 
Don't forget to order your IFP bindings.
Accessories that make your experience unforgettably good: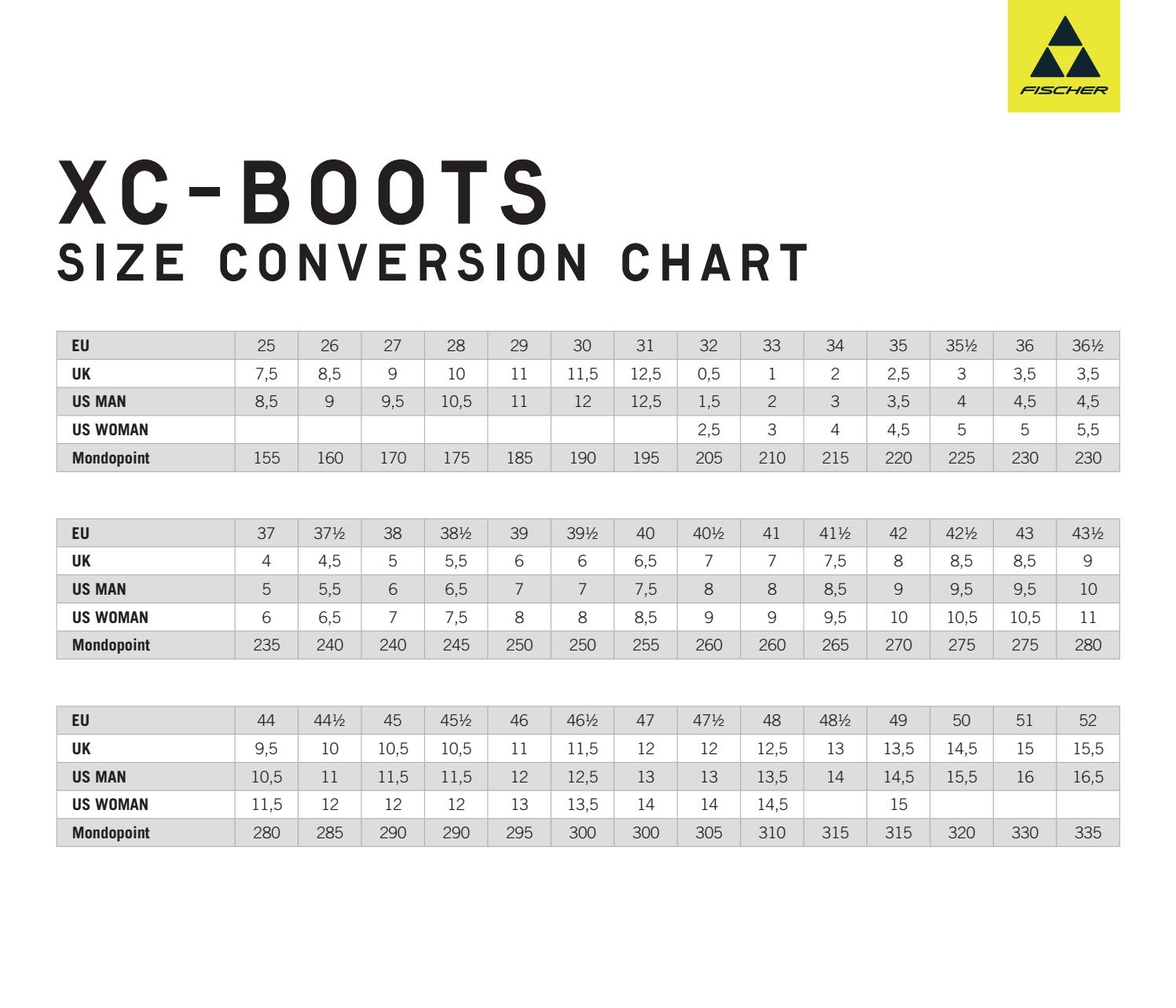 *Our Fischer Children's packages come with our trade-up policy. When you buy a complete ski package for your child you can return it next season and receive up to 50% of what you paid towards the purchase of your child's next ski package. No need to buy poor-fitting skis - give your child the gift of loving their time outdoors.
To read more, see: https://www.fischersports.com/ca_en/guide/cross-country-ski-length-how-long-should-classic-cross-country-and-skating-skis-be