Anybody that has spent a Canadian winter in Winnipeg will understand how unforgivably cold it can be. When the temperatures begin to drop, it can be difficult for bike riders to continue their commute to work or leisurely rides during the winter. We get asked regularly about e-bikes in winter conditions. While it isn't unusual to see the odd person on their e-bike in the middle of winter in Winnipeg, you may start to wonder how an e-bike might manage the more frigid temperatures. 


Riding Your E-Bike in the Winter 

Battery Capacity 
E-bike owners may notice a notable change in how their battery operates during their winter riding. Depending on the temperature, your battery may drain as quickly as an hour. One thing you can expect is to charge your battery a lot more often than you would during the warm summer days. 
When you're finished with your e-bike, make sure you bring the battery indoors with you. You never want to start up your e-bike when the battery is as cold as ice. In some cases, bike owners will wrap their battery in insulation to keep it warm. 

Storage
E-bikes should typically be stored in a cool and dry place, but that can be difficult during the very cold months of the year. At the very least, you should ensure that your e-bike battery is kept indoors, partially charged. If possible, you should try and store your e-bike indoors if you have the extra space. 

Winter Tires
Like car tires, you want to make sure that you have enough traction and puncture protection during your winter riding. Getting a pair of studded tires for your e-bike is a terrific way to make sure you're prepared for riding over snow and ice. While it can be an expensive purchase, it's the smart choice to make in terms of safety, especially if you're an e-bike owner in Winnipeg. This way, you'll be more relieved knowing your tires can handle the snowy trails you want to visit. For more information, you can read up about our top bike trails for e-bikes in Winnipeg. 

Brake Pads
Braking on e-bikes isn't too difficult, but it can be when there's snow and ice to worry about. You should ensure that your brake pads are up to date, as you don't want to run into a problem while doing some winter cycling in the city. Water can often collect in or around your brakes, and on those frigid winter days, they can freeze up. We all know how bad the traffic can get in Winnipeg, so while you're out starting and stopping on the roads, be safe and review or replace your brake pads.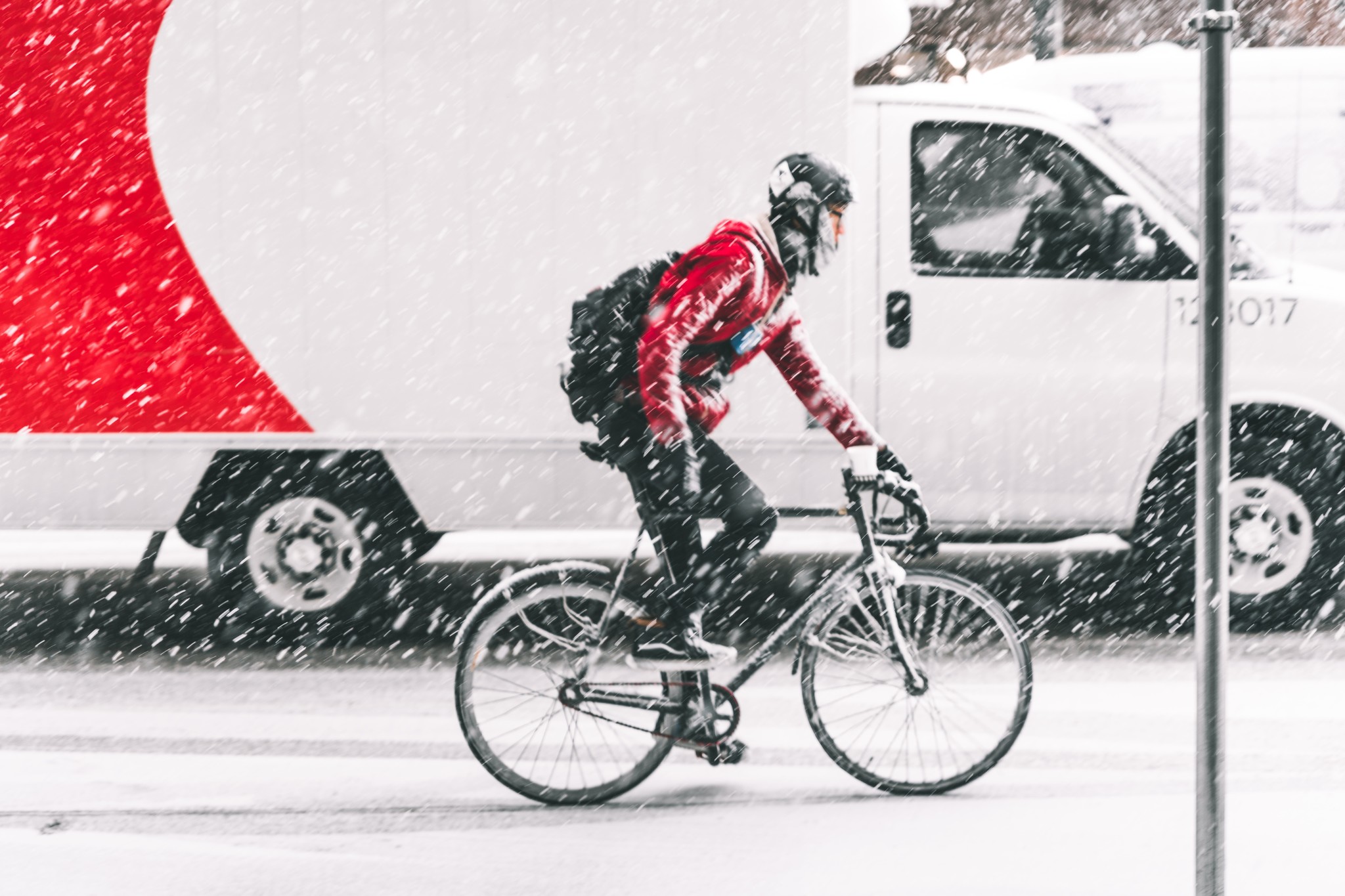 Keep It Clean
Unlike summer, your e-bike will get a lot dirtier during the winter. E-bikes can encounter a lot of sand, dirt, and salt that's used on the Winnipeg roads. If you take your bike out for a ride, you should give it a good wipe-down with a damp cloth when you get home. Remember to use a bicycle-specific lubricant for the chain to avoid any issues on your next ride. 

Stay Warm
While you're worrying about keeping your e-bike warm and safe, you must make sure you stay warm as well. The next time you decide to go riding around on bike paths and trails or commuting to work, ensure you have the proper gear. Aside from the typical winter clothes, like parkas, toques, and ski pants, there are other specific choices that are best suited for e-bikes. 

These include:
A proper bike helmet: You should always wear a helmet when riding e-bikes, no matter if it's snow, rain, or shine. 
Warm biking gloves: A true cyclist knows how cold your hands can get, even in slightly chilly weather. Your hands are always exposed on the handlebars, so make sure you invest in some warm gloves while winter cycling. Another great option vs heavy gloves is what is known as bar mitts or pogies. These allow you to wear a lighter glove for more dexterity in managing brakes and shifters while winter cycling. 

Face masks: A warm face mask can be a huge help when you're cycling against frigid winds. Wearing the right protection on your face will help reduce the risk of frostbite. 

Warm footwear: Even with the pedal assist, your feet will be working overtime during the winter. It's important to make sure the shoes or boots you wear will keep your feet warm. There's nothing less enjoyable than pedaling e-bikes with numb feet. 
Are you looking for the best selection of e-bikes in Winnipeg? Our local shop has everything you're looking for and more. We are confident that with our years of experience with bikes, we'll be able to find the right one for you. Stop by our location in sunny St. James today!